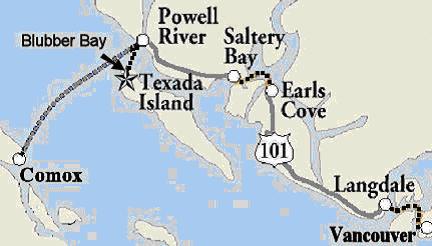 BC Ferries offers regular service from the mainland (Powell River) to Texada, with 8 return trips daily. Scroll down for maps of Texada.
From Vancouver Island:
Take the Comox ferry to Powell River then take the ferry from the same terminal to Blubber Bay on Texada. Make sure you get into the lineup for Texada and not Comox. Click here for ferry schedule.
From Vancouver/Lower Mainland:
If you leave Horseshoe Bay on the first ferry in the morning this scenic trip will get you to Blubber Bay on Texada at approximately 1:00 in the afternoon:
1. Take the Horseshoe Bay ferry to Langdale. Crossing time is 40 mins. Food service is offered on this trip. Click
here for ferry schedule.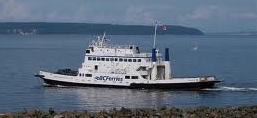 2. Drive from Langdale to Earl's Cove (takes about 1 1/4 to 1 1/2 hours driving – this is the longest stretch of the journey) then line up for the ferry to Saltery Bay. Crossing time is 50 mins. Click here for the Earl's Cove to Saltery Bay ferry schedule.
3. Drive to Powell River (about half an hour) and take the ferry from there to Texada Island ferry terminal at Blubber Bay. Crossing time is 35 mins. For schedule, click here
By Air:
KD AIR offers daily flights, three in summer and two in winter, to Gillies Bay Airport on Texada Island from Vancouver South Terminal, via Qualicum Beach on Vancouver Island. Visit their website at: www.kdair.com
Please note: There is no public transportation on Texada
To see the map below with more details, view the TACT Map at Google Maps
For more Texada maps, visit our maps page.