2nd Annual Texada PAINT OUT 2015
September 12th & 13th, 2015
Plein air (outdoor) painting developed in France in the mid-19th century and is becoming increasingly popular. International Plein Air Painters (IPAP), whose members reside throughout the World, is the blanket organization for individual plein air groups and was created for the sole purpose of advancing the execution and enjoyment of plein air painting without limitations of borders or regions.
This event is happening simultaneously each year in international locations (last year's event drew artists from all over the globe) and Texada Island was part of this 14th WORLDWIDE group event hosted by International Plein Air Painters.
Plein air artists seek the quality of natural light and atmosphere outdoors. They use a variety of media, from oils, through watercolors, line drawing and pastels.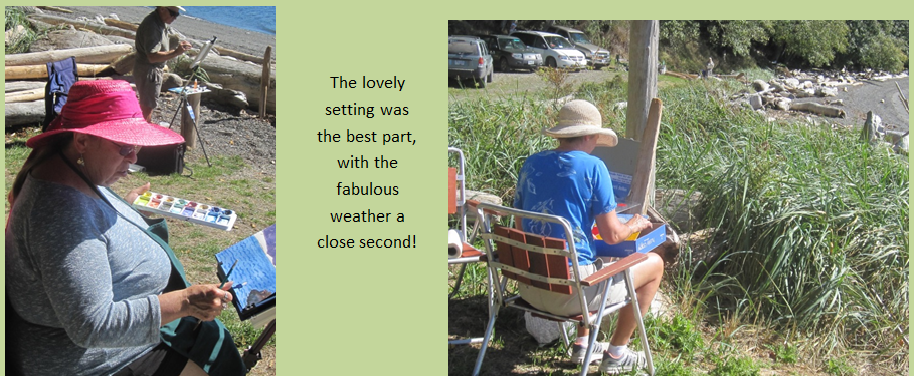 On Saturday, September 12th, the public joined in the fun at Shingle Beach on Texada Island by watching individual artists work and moving from painter to painter from 10:00 am until about 2:00 pm, when many artists had finished. The next morning (Sunday September 13th) starting at 11:00 am, there was an exhibit of the day's work at the TACT Centre in Van Anda (on Texada Island), plus other works painted outdoors. An artists' reception was held from 11:00 am to 2:00 pm, with the many members of the public coming to meet and chat with the artists.
Event organizer Marilyn Timms says there is a joy about painting outdoors and this is a chance for people to see artists at work, developing their paintings in response to the beauty in nature.  Your contact is Marilyn at: mytimms@timmsfineart.com
Airbuzz Antics